Great Pumpkin Pie
Posted by Wooly Dragon on
First of all, Happy Thanksgiving! Did you save room for dessert? Turkey Day just isn't complete without pumpkin pie. This year, I volunteered to make pumpkin pie for the meal because, per my father, "pumpkin pie isn't that great." Well, I wasn't gonna deny myself and my freezer is full of frozen pureéd pumpkin from the garden, so I made pie!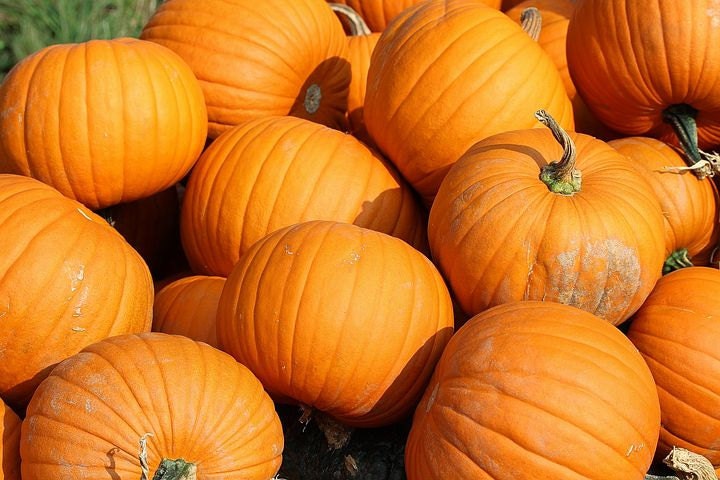 How do you make pumpkin pureé? It's all about the roasting! First obtain a small pumpkin; I prefer what are called pie pumpkins, rather than the large Jack-o-Lantern types. They are usually tastier and less fibrous. Wash it off to remove any garden dirt or dust and cut it in half. Scoop out the seeds from the cavity (don't forget to roast them too!). Line a sheet tray with parchment paper or aluminum foil and place both halves, cut-side down, on the tray. Have your oven pre-heated to 350°F. Roast the pumpkin until soft; it usually takes an hour.
Let it cool down and scoop out the flesh with a large spoon. (If it doesn't scoop easily, it's not done yet.) Alternately, you can peel the skin off. Mash the pumpkin, then fill quart freezer ziploc bags with the puree, but don't overfill. You want enough to fill the bags and have no air when the bags lie flat, but not so much that you can't close the bag or it is in danger of bursting. I usually lay the bags flat on a sheet tray until frozen and then stack them on top of each other. Be sure to label and date. Later, when you need pumpkin, let a bag defrost in your refrigerator and use.
Be warned that fresh pumpkin can be juicier than canned, although roasted pumpkin isn't as watery as boiled pumpkin. To eliminate any excess moisture, strain your pumpkin with cheesecloth. Make sure to whizz the pumpkin with a food processor to eliminate any lumps, but usually the roasting and freezing processes break it down pretty well.
Soak the pile of goop and seeds in cool water. Stir them around to get the really stubborn bits of pumpkin off the seeds. Then let the seeds drain on a towel; you want most of the water gone, but not so dry the salt won't stick. Pre-heat your oven at 400°. Spray some cooking oil spray on a sheet pan, spread the seeds evenly over the pan. If you're a fan of salt, sprinkle them with salt, as much or as little as you prefer. Me? I like salty! Try garlic salt or chili salt. If you don't like salt, leave it off. Place the seeds in the oven and roast for 10-20 minutes. Why such a varied time? It depends on how big the seeds are. Try to stir the seeds halfway through roasting to lightly brown both sides. Just keep an eye on them! Once, long ago, while roasting some seeds, I walked out of the kitchen for just a minute and came back to burnt pumpkin seeds. Bummer!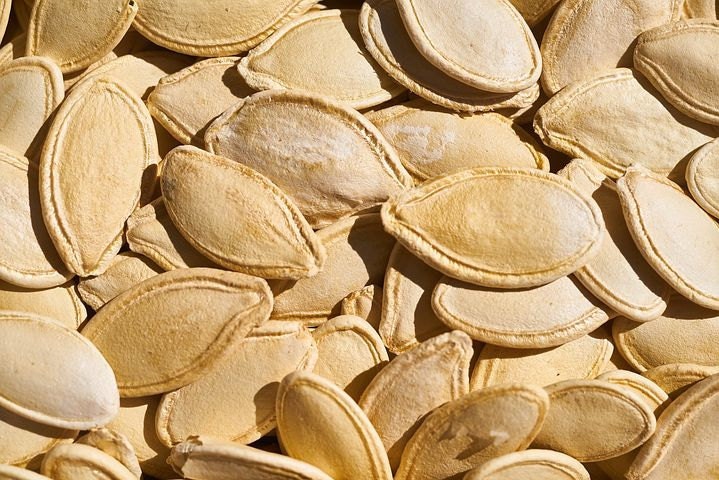 Here's my recipe for pumpkin pie. Let's not talk about pie crust recipes because that's a matter of preference. If you make your own pie crust already, you're ahead of me. I'm lazy. I either purchase one of those ready-to-go crusts already in it's own aluminum pie plate or the refrigerated, rolled up discs that I feel very fancy about rolling and pressing into my own pie plate.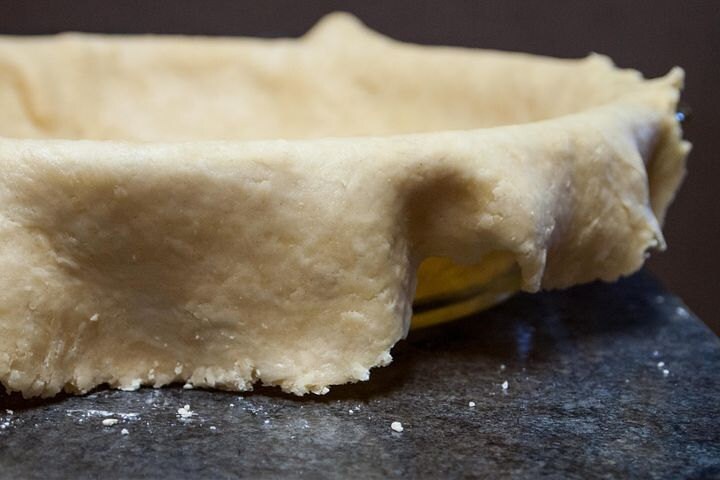 -8 oz. of softened cream cheese
-2 cups of pumpkin puree (If you don't have your own pumpkin, use canned. Just be sure it's not pumpkin pie filling.
-1 egg + 2 egg yolks, lightly beaten
-1/4 cup (1/2 stick) of butter, melted
-1/4t ground allspice (or nutmeg or ginger)
-Whipped cream: homemade or store bought or none, if it's not your favorite
Pre-heat the oven to 350°. Whatever you do about the pie crust, go ahead and, at least partially, pre-bake it and let it cool. That way the bottom of the pie is less likely to be soggy.
Beat the cream cheese with a hand-held mixer (or however you like to do it; the goal is a smooth consistency). Add the pumpkin and mix until blended. Add the sugar and the salt; blend again. Add the eggs, half & half and butter; yep, mixie mix. Finally, add the vanilla and spices.
Pour the mixture into the pie shell, place it in the oven and bake for 50 minutes or until the center is set. Let cool on a rack and either store, covered, in the fridge or go ahead and slather on that whipped cream and go to town.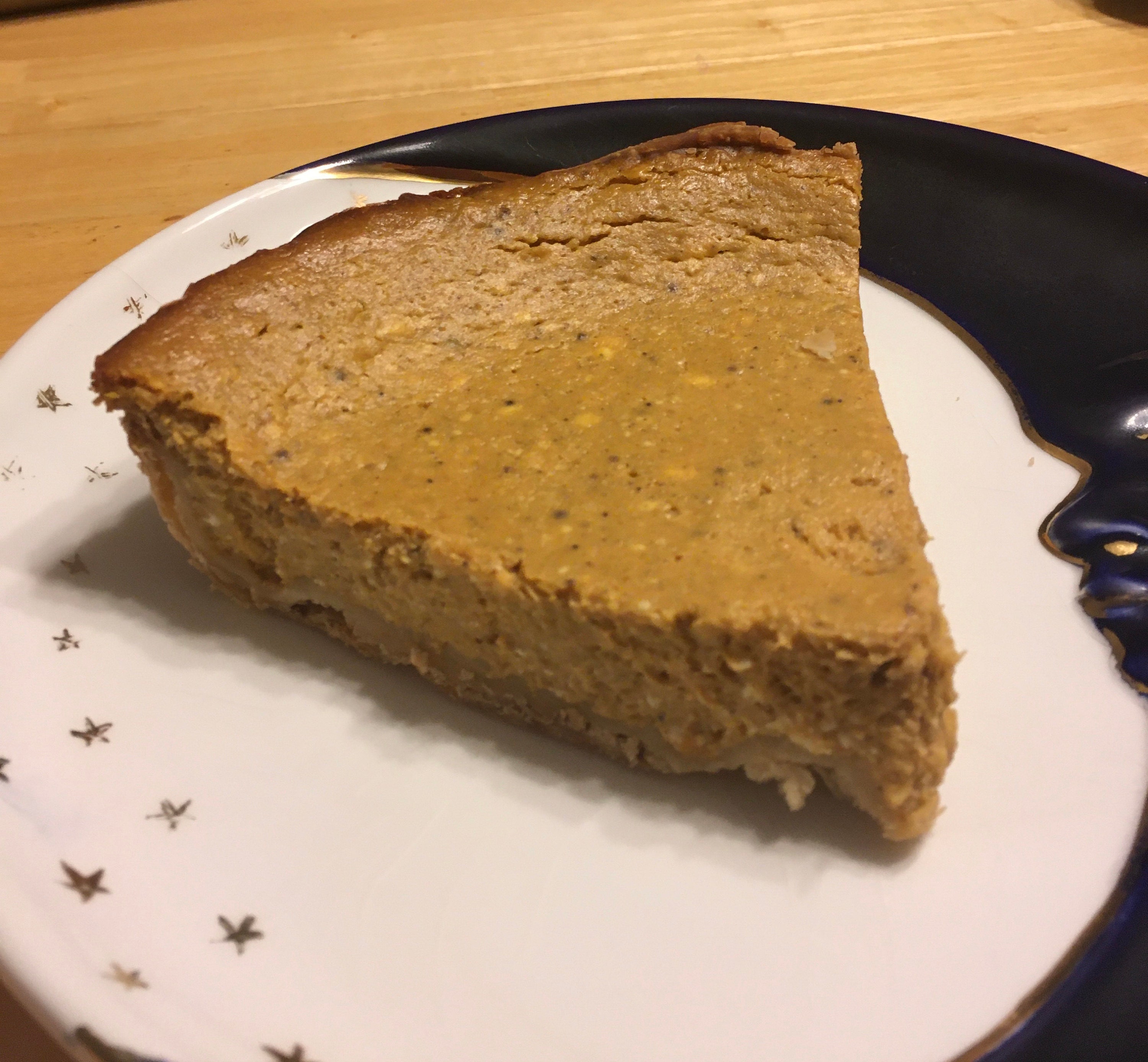 Here it is. No frills, no artisanal whipped cream or fancy crimped edges on the crust; just yummy for my tummy and my tastebuds. Oh, and my dad, who isn't fond of pumpkin pie, liked my pie better than the (store bought) berry pie my mom got for him. Yes!!!
I hope you enjoy this recipe and make it for Thanksgiving next year. From our lair to yours, Happy Thanksgiving!!!
---
Share this post
---
---