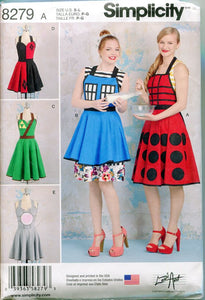 Designer Apron Pattern Simplicity 8279 by LoriAnn Costume Designs
Aprons are useful and fun, especially these.  By LoriAnn Costume Designs for Simplicity this pattern offers a lot of freedom for you to make it uniquely your own. 
There are 18 pattern pieces in sizes Small to Large.  Small has 32.5-34" bust with 25-26.5" waist.  Medium is 36-38" bust, 28-30" waist.  Large is 40-42" bust, 32-34" waist.  There are two lengths for the skirt of the apron & it seems to go all the way around.
With this type of pattern I would think you could make it smaller or larger as needed.
---
We Also Recommend