Bacon Jam!
Posted by Wooly Dragon on
I love bacon and I love jam; therefore, bacon jam is stupendous!
I first heard about bacon jam when I visited a food truck in Scranton, PA called "What the Fork!" You may have heard of them; they were featured on "Live with Kelly and Michael" in 2013. The business went defunct a few years later, but bacon jam is forever!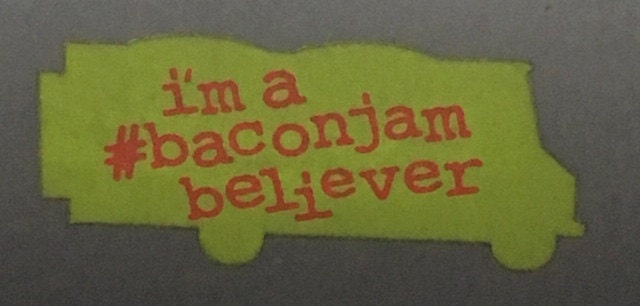 Several months later when I left Scranton, I decided to try making some bacon jam and searched the internet for a recipe. There are many versions available online if you search. This is what I do.
1 1/2# (24 oz.) bacon, chopped into small pieces (as small as you can)
2 medium onions, chopped small
Minced garlic- Use as much or as little as you like; I used 4 cloves
1/4 cup maple syrup or honey
1/2 cup of coffee (leftover from breakfast)
1/2 cup apple cider vinegar
Starting on medium heat, first sauté the bacon until cooked but not crisp. Remove the bacon with a slotted spoon to a slow cooker/crock pot. Pour off all but 1-2 tablespoons of the bacon fat and then sauté the onions & garlic until they are translucent. Add the onion/garlic mixture and also the remaining ingredients to the slow cooker and set it to high heat. Cook uncovered for 3-4 hours, stirring occasionally. Using a stick immersion blender, blend the jam until it attains the desired consistency (smooth or chunky). The end result will be like chutney and can be used similarly. I love it with cream cheese & bagels! Keep this in the refrigerator and use within 7-10 days. You can freeze portions for future use.
Try adding a splash of bourbon at the end for an added depth of flavor! Double, triple or more the ingredients and cook in a slow cooker on low for 8+ hours. You can never make enough! As I mentioned, it's great with cream cheese on bagels, but it also makes a stupendous topping on burgers! Spread it on a cheese sandwich before grilling and your tongue will slap you upside your head trying to taste it!
---
Share this post
---
---