Temperature Blankets
Posted by Wooly Dragon on
Has anyone heard of these? They're actually rather fulfilling to make and can be any colors. In places like San Francisco, where the temperature hardly ever gets too hot or too cold, a temperature blanket can use fewer colors or several shades of the same color. In east Tennessee, where temps can vary from 100′s to below 0, more colors can be used.
I completed two different blankets in 2018; one for my BFF near Nashville and one for my parents here in east TN.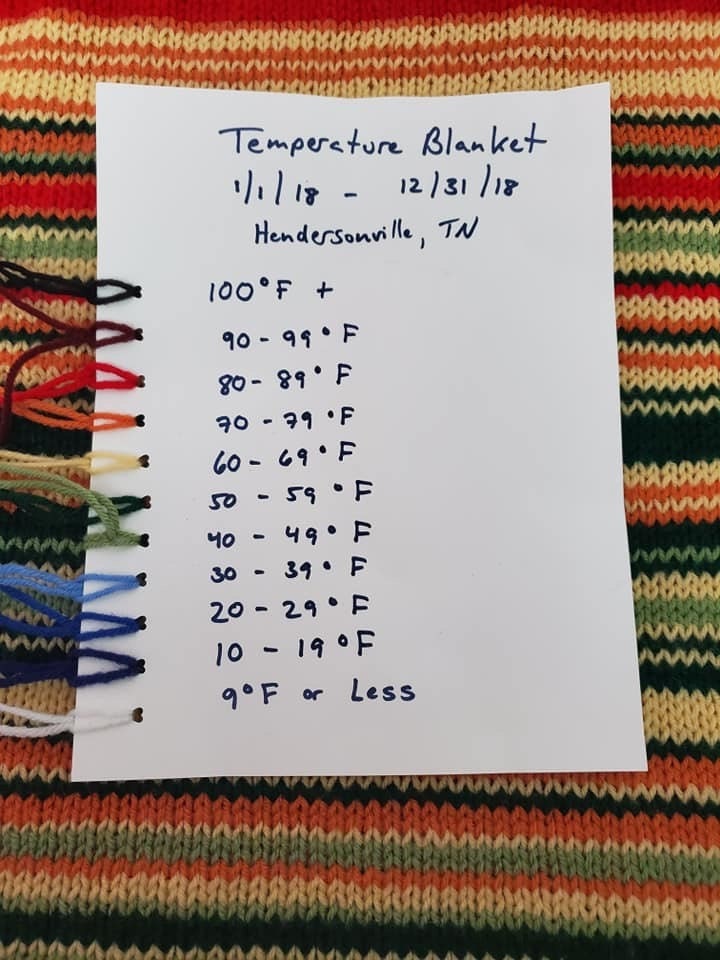 In 2019, I knit one with shades of green and beige for my brother in San Francisco.
The first order of business is choosing how many colors/temperature gradients you will use. The more colors you use, the more variation you will experience. Knit or crochet? Whichever you would like. I chose to knit all three blankets in simple stockinette stitch with garter stitch borders.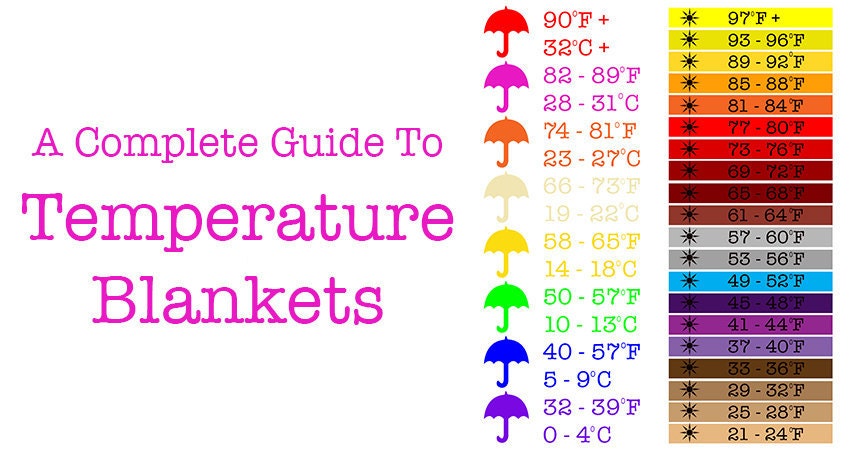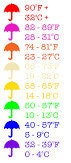 Next, choose your weather source. I have the Weather Channel and Wunderground apps on my phone, but there are many to pick from; I love the humor of WTForecast! If you forget to check the temperature for a day or week, try
www.timeanddate.com
. You can check past temperatures of years past in many towns in the US or the entire world, if you wanted.
Keep track of the temperature daily. You can use the high temperature of the day, the low or choose a specific time of day and use that temperature each day (like noon). I cast on 300 stitches onto circular needles; straight needles won't be long enough to hold all of those stitches. Use a needle size that correlates with the type of yarn you use (check the yarn info). I used size 10 needles for worsted weight yarn. This ended up making a full/queen size bedspread.
What kind of yarn to use? Use whatever you can afford because you will use a lot of it! I have been using Red Heart Super Saver yarn (acrylic); someday I may use fancier yarn. Now start knitting (or crocheting).
I started with 6 rows of garter stitch to form a top border and then I started stockinette stitch (knit one row, purl the next, repeat) until the last 6 rows, which would be garter stitch (all knit rows) to echo the beginning. I am also using garter stitch at the beginning and end of each row (knit first 5 and last 5 stitches of every row) as side borders. If you miss a day of knitting, just do 2 rows the next day. If you want to get fancy, you could always use blanket binding to neaten the edges; but I liked the garter stitch effect.
***Can't commit that much time to a blanket? Make a narrower version in garter stitch for a scarf!
The temperature blanket in manly colors that I made for my dad, the Grumpy Dragon for Christmas 2020:
Will 2021 finally be the year I get my own Temperature Blanket? Cross your fingers!
Alas, 2021 was not the year for Wooly to get her own blanket...I started it, got halfway finished and got distracted. Stay tuned!
---
Share this post
---
---